Innovations...



Pt.Ulhas Bapat is a musician with an innovative bent of mind. He has introduced trail-blazing modifications in the Santoor. He has developed his own specialized system of tuning the instrument in "Chromatic Structure", where all the twelve notes are tuned on the instrument. With this system one can play all 'Ten Thaat (scales) of Indian Classical music' instantly.
The Chromatic system :
The Chromatic system eliminates the need to retune the instrument after the rendition of each raga. This approach also enables him to play 'Vakra' ragas, as well as any Raga from any scale. It has proved in his recorded albums---- 'Raga - Sagar - composition of Nine Ragas' and "Prabhat Sagar"- composition of five morning Ragas.
The MEEND on Santoor :
He has also reconstructed the tongs (sticks) in a manner, which enables him to produce the glissando or The Meend which is a sene-quanon of Indian music. This innovation has contributed to the enrichment of the sound of the Santoor. He has a patent for this innovation.
Composing new "Bandish" ("Gat" in Instrumental music)
Composing new "Bandish" according to Raag is Ulhasji's Forte.
He feels, each Raag has a different personality and mood.
So he composes "gat" accordingly. Each "gat" has a different approach.
One can not find him playing "gat" in different Raagas with similar 'meter'.
The "Mukhda" of each composition is different than the other.

Composing in unique Taals is again another speciality.
Creation of Taals like "Makarand", 11 Beats divided into two parts of 5 ½,
Or "Pratik" 9 Beats divided into two parts of 4 ½, is the result of his
continuous search for unusual presentation.

Making the Santoor :
His innovative mind led him in making the "Santoor" on his own, under his execution. From selecting the wood, to making special elephant-shaped bridges of sandal wood to the finishing. One cannot deny his 'ethical' and 'aesthetical' touch in the making the Santoor.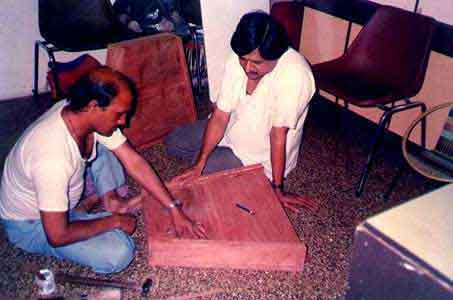 Raag Creations...



Raag Parijat : a morning melody
Raag Gorakh Kans : an evening melody
Raag Amrit Ranjani : an evening melody
Raag Abhogini : an evening melody
Raag Charuvi : an expressive melody
Raag Poornanaad
Raag Shadow / Sangati
Raag Diminisha : Based on Diminish Scale
Pt. Ulhas Bapat Composed music for
Childrens song (Marathi) - 'Bahuliche Lageen' and 'Gauri Bapat'
released by 'INRECO'. Sung by kumari Gauri Bapat.
He has directed the music for two Bharatnatyam Ballets.

Composed music for Bhakti Mala - Classical Devotional songs -
Ganesh, Shakti, Mahadev. Volume I by 'Music Today'
sung by Smt. Shruti Sadolikar-Katkar.
Composed and arranged music for thematic flute album 'Serenity"
by late Shri. Ramakant Patil.
Album released by 'Crescendo'.
Composed and arranged marathi album 'Shravani Me' sung by
Jyotsana Hardikar.
Abum released by 'Manasa'
His International contribution as a composer :
He has composed for a Dance Script "Ganges to Nile" produced by "Anurekha Ghosh & Co. UK." in 2004
My inspiration, influence and involvement with Panchamda ultimately
resulted in this song 'PANCHAM' written, composed and sung by me.